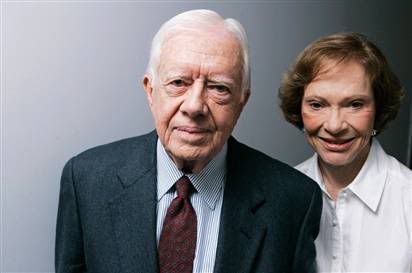 James Earl Carter Jr.and Rosalynn Smith Carter are more commonly known as Jimmy & Rosalynn Carter; former 39th president and first lady of the United States.

"What?" You ask? "Why do you admire them?" "His Presidency was one of the least memorable in American history!" "Rosalynn wasn't exactly glamorous, a la Nancy Reagan, either." Well, I say to you, there are so many more important things, and much more admirable endeavors than taking it upon oneself to redecorate the White House or jumping from movie stardom to politics.

Okay, I readily admit that, with the inflation, and lines at the gas pumps so common in the 1970s, coupled with the fact that President Carter did not lead us out of a depression or guide us through a major war, and he was not a "great orator" per se; history has not been exactly kind to this honest and decent man who hails from a small town in south Georgia.

Rosalynn Smith & Jimmy Carter grew up in very close proximity to one another in Plains, Georgia; having been neighbors for a short period of time until Rosalynn was two and Jimmy five. Ruth Carter, Jimmy's younger sister, and Rosalynn were best friends as girls therefore allowing more opportunity for these two future patriots to bump into one another. However, with Jimmy being three years ahead of the girls, he did not pay much attention to his sister or his sister's best friend. Then, one summer evening in 1945, Jimmy and a friend were cruising the streets in search of dates to take to the movies. They stopped outside of the Methodist church where Rosalynn was loitering with a group of young people after a youth meeting. They asked her to go along and by the end of the evening, Jimmy and Rosalynn were sitting side by side in the rumble seat of the car.

The pair were married on July 7th, 1946 in a small ceremony attended by family and a few close fiends, a month after Jimmy graduated from Annapolis. Throughout the late 1940s and early 1950s while travelling cross country with the Navy, the pair had three children, John William, James Earl Carter IV, and Donnell Jeffery.

In 1962, he entered Georgia state politics and in 1970, he was elected Governor of Georgia, in 1967; their daughter, Amy Lynn was born, and in December 1974 he announced his bid for the presidency and proceeded to launch a two year campaign that involved his entire family. Carter beat out incumbent president, Gerald R. Ford with 297 electoral votes to Ford's 241. In early 1980, by the end of his presidency, Carter could count among his successes the overseeing of the Camp David accords of 1978 which brought amity between Egypt and Israel and he was instrumental in the ratification of the Panama Canal treaties. Another memorable achievement brought on by Carter's hard negotiations and persistence was Iran's release of 52 American hostages on the same day that President Carter left office in 1980.

Returning home in low spirits and virtually broke, the pair immediately started in on their memoirs. (I've read First Lady from Plains and, its one of my all-time favorite autobiographies.) One evening, President Carter awoke with a monumental idea. He decided to head the creation of an organization that would assist in the spread of democracy worldwide. Thus, The Carter Center was founded byb Jimmy and Rosalynn in 1982. Throughout its 27 years of service, the Carter Center has been an advocate for worldwide democracy by overseeing democratic elections in such countries as Ghana and Ecuador. This organization also fights worldwide disease by distributing innoculations for third world epidemics including guinea worm , whose transmission was halted in 2007 in Togo, Burkina Faso, and Ethiopia; and river blindness.

Beginning with her tenure as first lady,Rosalynn Carter has been perhaps America's, nee, the world's most recognizable advocate in the fight for equal rights and treatment for those of us coping with mental illness and disorders. She has lobbied to congress countless times, occassionally alongside friend former first lady, Betty Ford , for better government aide for mental health programs in the U.S. Most recently, Mrs. Carter testified before congress in 2007 during a hearing concerning mental health parity , and due to her actions and those of others such as House speaker Nancy Pelosi and Pete V. Domenici , Republican from New Mexico whose daughter suffers from schizophrenia, who was the main sponsor of the mental health parity bill; said bill was passed in early March, 2008. The bill states that mental illness is equal to physical illnesses therefore, requiring nearly all group health plans to "provide more generous coverage for treatment of mental illnesses, comparable to what they provide for physical illnesses."


Mrs. Carter's testimony before Congress' subcommitee on health in 2007.
Notice how this sweet woman literally tears up in the middle of her testimony.

In 1987, The Rosalynn Carter Institute for Caregiving was founded on the campus of Georgia Southwestern State University in honor of the former first lady who is an alumni of the college. The institute' mission is as follows:


The Rosalynn Carter Institute establishes local, state and national partnerships committed to building quality long-term, home and community- based services. We believe this begins with providing caregivers with effective supports and making investments that promote caregiver health, skills and resilience. We also believe strongly in the need to provide greater recognition and support for professional and family caregivers. Our focus includes supporting individuals and caregivers coping with chronic illness and disability across the lifespan as well as limitations due to aging.


And so, I admire these two great Americans, patriots, and citizens of the world because of there genuine care and concern for the well being of their fellow man. I admire this husband and wife because they have joined forces, using all of their celebrity and connections not to live extravagantly or provide a lavish lifestyle available only to those in their tight knit circle but, these two gracious, loving individuals have used their name and a lot of the benefits that come with that name to better the lives of millions of human beings worldwide who, without their assistance, whether it be through the way that The Carter Center oversees peaceful transitions to Democracy, or their 25 year association with Habitat for Humanity , personally setting aside a week every year and joining volunteers in many nations, (2009 being in the Mekong River region )to take up hammers, screwdrivers, and many loads of lumber to build decent homes for families who otherwise would be homeless or living in shacks of some kind.

Say what you will about the Carter presidency but, there is no denying that these two lovely human beings have made the world a much better place and, for that, I, along with millions of others, will be forever thankful.
Sunny Side Up!,
Krista